Playsets are important backyard or playground equipment for families with children. They provide a safe and fun place for little ones to play, explore, and learn. It's important to consider the roof when selecting a playset for your backyard. A playset roof enhances safety, aesthetics, and the longevity of your playset. That's why we provide playset roofs made of various materials and options to give you exactly what you're looking for. No matter the type of roof you choose, make sure it's installed properly so it's safe for children. Here is a look at the merits of each type of playset roof available and tips on choosing the one for your home and children.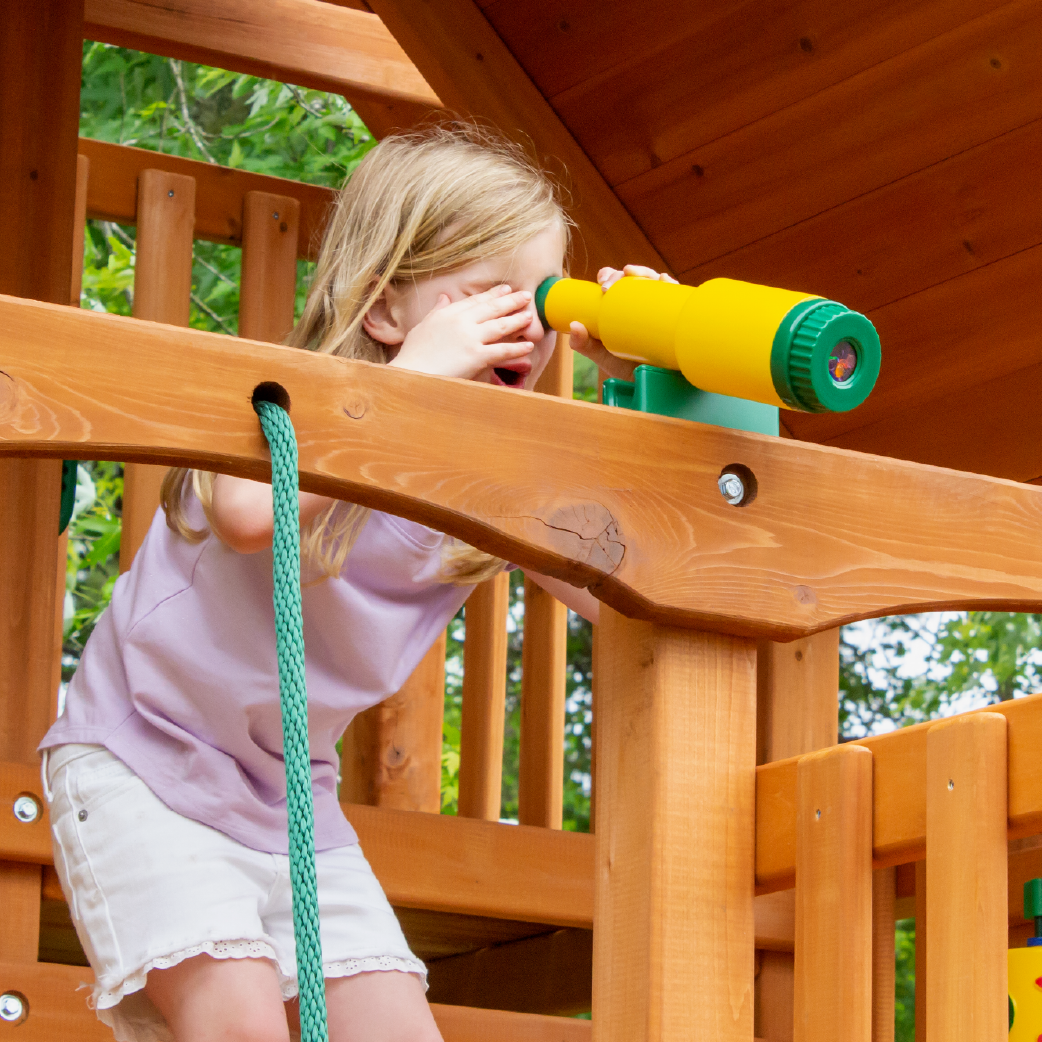 The Role of Playset Roofs in Playtime Adventures
A playset roof is the overhead covering that protects children from the elements while playing on a playset, allowing them to enjoy hanging out outdoors for longer. These structures can be made of various materials, including canvas, metal, vinyl, or wood. It's important to consider many potential factors when selecting a roof for your children's playset.
Playset roofs can enhance safety, aesthetics, and imaginative play in several ways. Here's a look:
Safety and Protection
A playset roof can help keep kids safe from harsh weather elements such as sun, rain, and wind. Just because you want your children to spend time outdoors doesn't mean you should leave them to bake in the sun, suffer through horrible winds, or get soaked wet in the rain. Installing a roof on children's playsets helps keep them safe to play stress-free and longer. This is especially crucial if you live in hot climates or during bleak weather.
Aesthetic Appeal
A roof can also add a touch of style and personality to your kids' playset. As mentioned, playset roofs can be made of various materials. They can also be transformed using colors, decorations, and accessories to create jungle, wilderness, sea, or space vibes and encourage imaginative play. With careful consideration, you can choose a roof that will keep your children comfortable and also enhance the look of your playset and backyard.
Encouraging Imaginative Play
Installing a roof on your kids' playset also creates a sense of security and shelter, encouraging children to leverage their imagination. It makes it easy for them to pretend they are in a castle, fort, or spaceship and engage in imaginative play. Imaginative play is useful in developing creative, social and emotional skills. It also helps children learn about their surroundings. Indeed, it's important to consider the roof material and design when considering different playsets.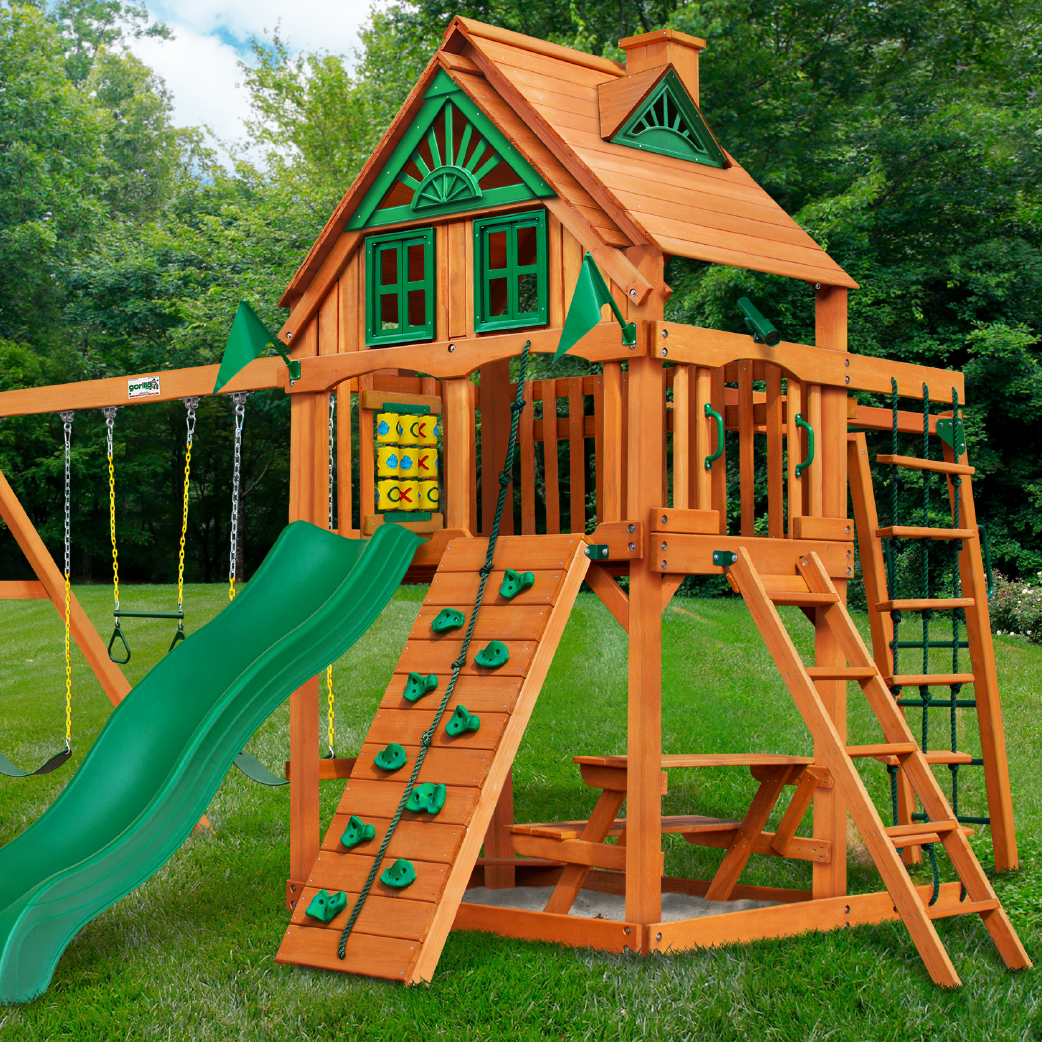 Treehouse Roof: A Rustic and Charming Choice
A treehouse roof is usually made of wood or metal with a rustic design that resembles an actual treehouse. The roof is often sloping, with shingles or shakes that are weathered and worn. This gives the roof a natural look that blends with the surrounding trees. The rustic design of the treehouse roof is appealing to children who love adventure. It makes them feel like they are playing in a real treehouse, high up in the branches, while protected from rain, sun, and wind.
The main area of treehouse roofs is the platform, where children can read books, host tea parties, or other forms of play. Treehouse roofs pair well with various playset designs, from jungle adventures and wilderness exploration to spaceships, pirate ships, and castles. Examples of playsets featuring the treehouse roofs include the Wilderness Swing Set and the Pioneer Peak Swing Set. Add a sky loft to your treehouse roof for extra fun!


The Wood Roof: Classic and Durable
A wood roof is a classic design that complements many different outdoor aesthetics. Our wood roofs are made of the same material as our playsets, cedar wood. Cedar is known for its durability and resistance to rot and decay, and redwood is durable and resistant to moisture. In contrast, pine is less durable than the others but costs less. This roof type looks amazing on any outdoor playset!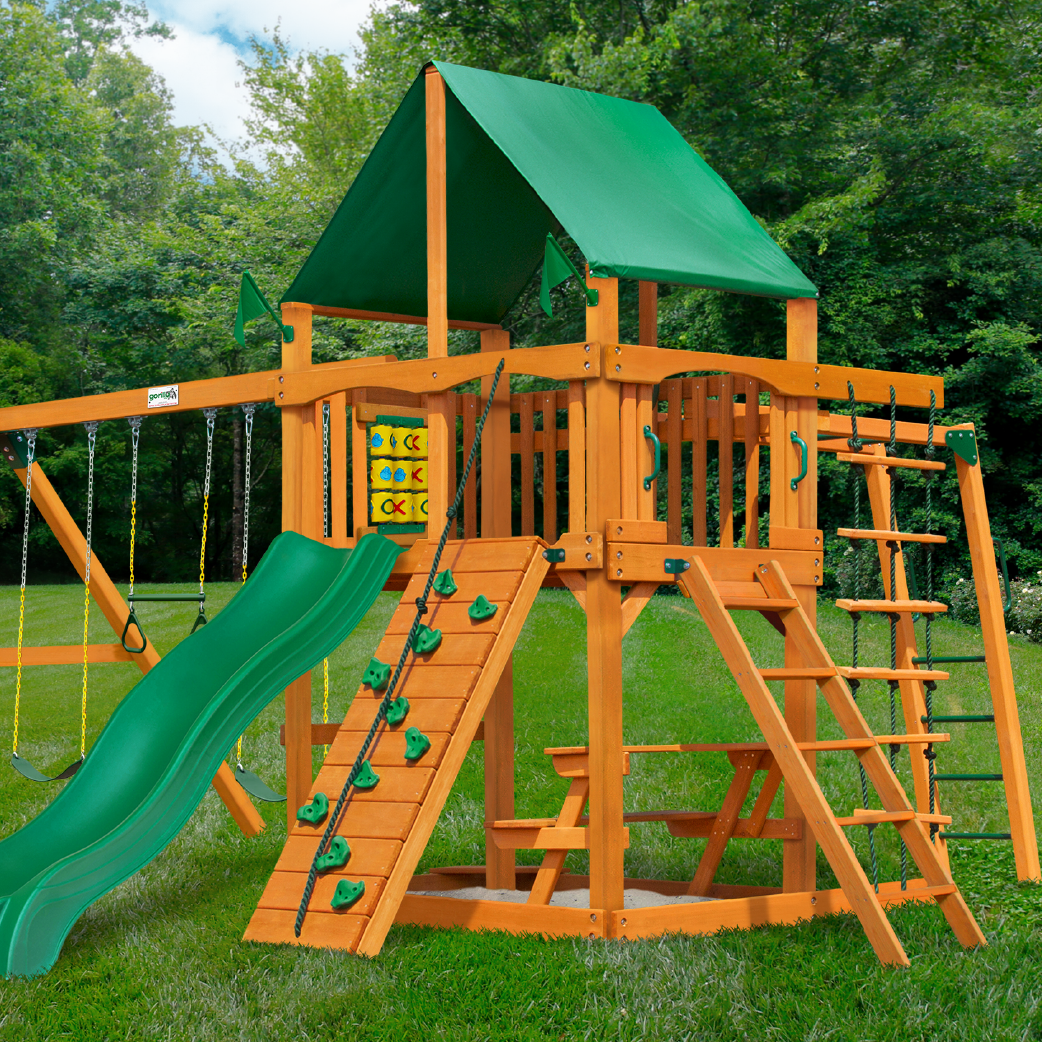 The Green Vinyl Roof: A Pop of Color and Versatility
Vinyl is another great material for a playset roof. It's not as durable as wood or metal but affordable and easy to care for. The material is our most lightweight option. Additionally, it doesn't lose its color when exposed to UV rays. It's also not susceptible to mold and mildew and can be cleaned easily using soap and water.
Many of our playsets including our Five Star II Space Saver and Chateau Tower Swing Sets use green vinyl because it provides a sharp contrast to the more muted tones of the natural wood resulting in visually appealing roofs and eye-catching playsets. The smooth, shiny surface of the vinyl roof also contrasts with the rough, textured surface of the wood. This contrast can add visual interest and depth to the playset.
Overall, a green vinyl roof can add a touch of fun and whimsy to a playset and create a sense of excitement and adventure while also being a practical option.
Choosing the Right Playset Roof for Your Family
As mentioned, playset roofs can be made of different materials and designed to look like small houses, castles, fancy structures, etc. The roof you select will depend on your preferences, budget, and personalization options. Here's a look:
Preferences
Consider the overall look of your outdoor space, your children's interests, and how the roof will complement their playset and the surrounding area. Overall, the roof should be compatible with your children's playset and blend in with the overall look of the outdoor space. Our wooden playsets do pair nicely with the wood roof since they are made of the same material. Although perhaps a green vinyl canopy roof is the pop of color your yard needs. It's all up to you!
Personalization Options
Consider the personalization options available. We allow customers to choose roof styles that superbly match their backyard space. You can select from treehouse roofs, green vinyl canopy, and our classic wood roofs. Not all are available for every playset but there are many combinations to consider before you make your perfect purchase.
We also provide many accessories and add-ons such as the sky-loft. Our playsets come with an easy-to-follow installation manual and all the hardware needed to do the job yourself.